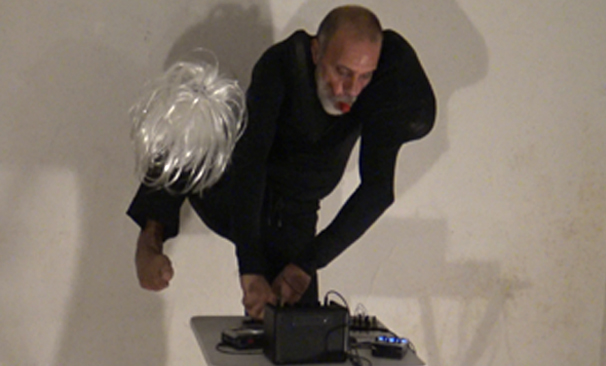 Dimecres de so i cos.
On stage: Loud action
Performance15.02.2023 / 19h – 20hSala Bar
Activity open to everyone and free with capacity limited to 55 people
From the series "osvaldo cibils en el arte de las perillas (the art of knobs)". Noisy actions with electronic gadgets and stuff and exaggerated body with stuff.
ON STAGE: NOISY ACTION is a multimedia performance, choreographed, to be performed live during which the artist manipulates low-cost electronic artifacts to produce noisy sound while exaggerating his body with everyday objects.
Performance of an act with a succession of several flowing actions that overlap each other, disrupting the scene and compromising it within its internal logic: noisy action.
perform
artist man sexagenarian Bald, gray beard, 1.72 m. tall, thin, athletic.
Changing room
Black pants and shirt. barefoot
Space
The performance takes place in a space with an installation of objects with which the artist will produce noisy sound and exaggerate his body. The performance adapts to any kind of space.
Objects installed in the space
A large monitor with a potpourri, randomly edited compilations of hundreds of videos from the video performance series "osvaldo cibils en el arte de las perillas (the art of knobs)"; electronic devices (audio cassette recorders, mini synthesizers, contact microphones, DYS devices, mixers, amplifiers, cables); a small table; a book on artificial intelligence; a stone; various lights; a roll of cardboard; a pair of white sneakers; a white wig; a brass bucket with black wires; a piece of red wood.