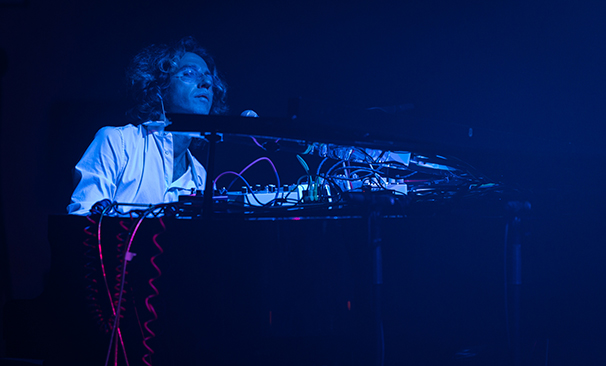 Dimecres de so i cos
Sound and body Wednesdays is the Santa Mònica program dedicated to experimental proposals that explore the intersections between music and the human body with free and regular sessions every Wednesday at 7pm in the Sala Bar.
Wednesdays of sound and body is a meeting place for audiences, creators, programmers, scholars and curious eager to enjoy a program of sound experimentation, improvised music, voice, dance and small-format performance in a relaxed and close environment how is the Sala Bar.
This programming and the production of each session are curated by different external and internal collectives of Santa Mònica invited periodically. Through all these voices, a choral and unique work space is created in the constant construction of collective meanings. The different artistic proposals show the diversity and plurality of views of experimental musical and scenic creation.
Dimécres de so i cos 2023 is nourished by the proposals of: BCN ImproFest, Sâlmon Festival, L'Afluent, La Bastida, Mixtur and Taller de músics
Considerations on the inevitable reverberation
Concert08.02.2023 / 19h – 20hSala Bar
Concert in sonic conference format by Xavi Lloses.
Starting from a series of collages of expressions taken from documentaries, radio, TV news and films, a narrative thread is built around the different tangible and intangible repercussions of sound vibration and music. From the most elementary physical principles to breaking the sound barrier, through the harmonies of the spheres, etc… Reflections on what and how we listen, and the possible meanings and values ​​we give to what we call music. A mind-blowing journey through hypnotic and curious soundscapes intertwined with the latest music distilled from the laboratory of Xavi Lloses. We can stop looking, but we can't stop listening.