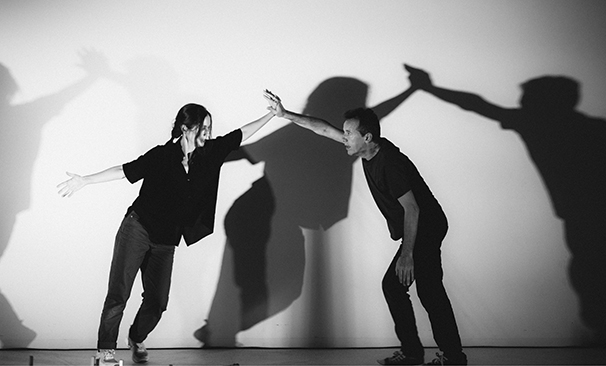 Dimecres de so i cos Nuno Rebelo + Constanza Brnčić presenten "¡Si se diera un cuerpo al bullicio!"
Nuno Rebelo and Constanza Brnčić have been collaborating for several years in different works of scenic creation. Their shared interest in experimental music, improvisation and the pleasure of performative play has led them to meet on different occasions and in different contexts to improvise with sound and movement. From these encounters, some with an audience, others behind closed doors, a specific language has emerged that combines physical action and musical creation.
Si se diera un cuerpo al bullicio is an attempt to capture these encounters scenically. The piece explores the relationship between movement and sound production, working from the development of structures. These generate diverse compositions that fluctuate between the random and the necessary. The performers use various objects and instruments which, amplified, produce a sound space and, at the same time, make images and actions appear. The result is a piece that moves in a terrain between concert and performance.
Links of interest:
www.youtube.com/nunorebelomusic
Music and movement: Nuno Rebelo + Constanza  Brnčić
Artistic collaboration: Beatriz González Magadán
Constanza Brnčić: dancer and choreographer. She holds a degree in Philosophy and a master's degree in Contemporary Thought and Classical Tradition from the UB, where she is currently working on her doctoral thesis. She combines her artistic and research work in the field of stage creation and the realization of numerous projects and commissions – including the community project PI(È)CE or her latest work Registros Evanescentes, among others – with teaching Composition, Improvisation and Movement Techniques at the Conservatori Superior de Dansa (CSD/Institut del Teatre).
Nuno Rebelo: after training in architecture, he decided to devote himself to his true passion: music. From 1983 to 1989, he led the rock band Mler if Dada, which was produced in Portugal, Spain, France, Italy and Algeria. From 1988 he composes for film, theatre and dance, working with choreographers such as Joaô Fiadeiro, Vera Mantero, Paulo Ribeiro, Mark Tompkins, Lisa Nelson, Steve Paxton, Malpelo, Constanza Brncic, among others. He improvises in concerts with musicians such as Joan Saura, Agustí Fernàndez, Ferran Fages, Alfredo-Costa Monteiro, Lali Barrière, Marco Franco, Carlos Zingaro, Kato Hideki, John Zorn, Peter Kowald, Evan Parker and many more.
Wednesdays of sound and body 2023 builds on the proposals of:
Wednesday,
Arts Santa Mònica
No event found!