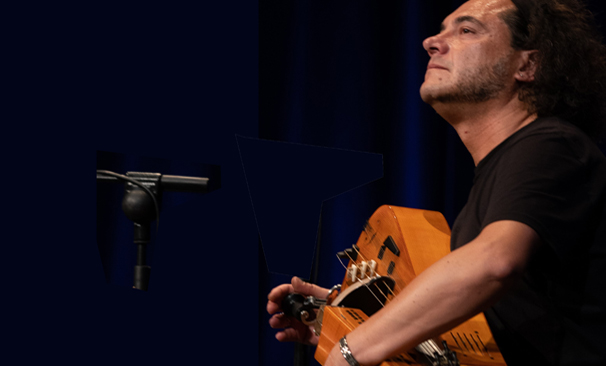 Dimecres de so i cos Marc Egea, solo acústic: a la viola de roda i més enllà
The viola de roda is a very old instrument. Its history dates back to before the year 1000 and it has been played, is played and will be played in all kinds of contexts around the world. A timeless instrument, it offers inexhaustible sound possibilities. It is not only curiosity or strangeness that makes one feel attracted to the wheel viola but also for its mysterious, peculiar and unusual sound.
Creation and improvisation: a repertoire in which you can hear reworked traditional songs and your own compositions. You will hear how Marc Egea goes from more popular music to jazz and rock. In short, you will hear what you have never heard before and much more.
Links of interest:
www.marcegea.com
With the participation of Miquel Jordà interviewing Marc Egea
Marc Egea (Barcelona, ​​1973)
Musician and philosopher. Studies in Philosophy, flabiol, guitar, viola and harmony. He began his career as a professional musician in 1990 with the trio Músics de Safeu and later with the group "El Pont d'Arcalís". From 2005 he is a musician on his own account and collaborates in numerous formations and national and international artists of many different musical styles. Founder of several instrumental groups in addition to developing a musical task as a composer and performer in the field of dance, theater and poetry recitals. He has performed on stages all over the world. He has recorded more than thirty discs. Composer of works for brass ensemble, couplet, symphony band, chamber music, choir, electronic music, etc. He is currently a teacher of instrumental groups at the Arenys de Mar School of Music, a musician in several artistic projects and a professor of Philosophy.
Wednesday,
Arts Santa Mònica
No event found!