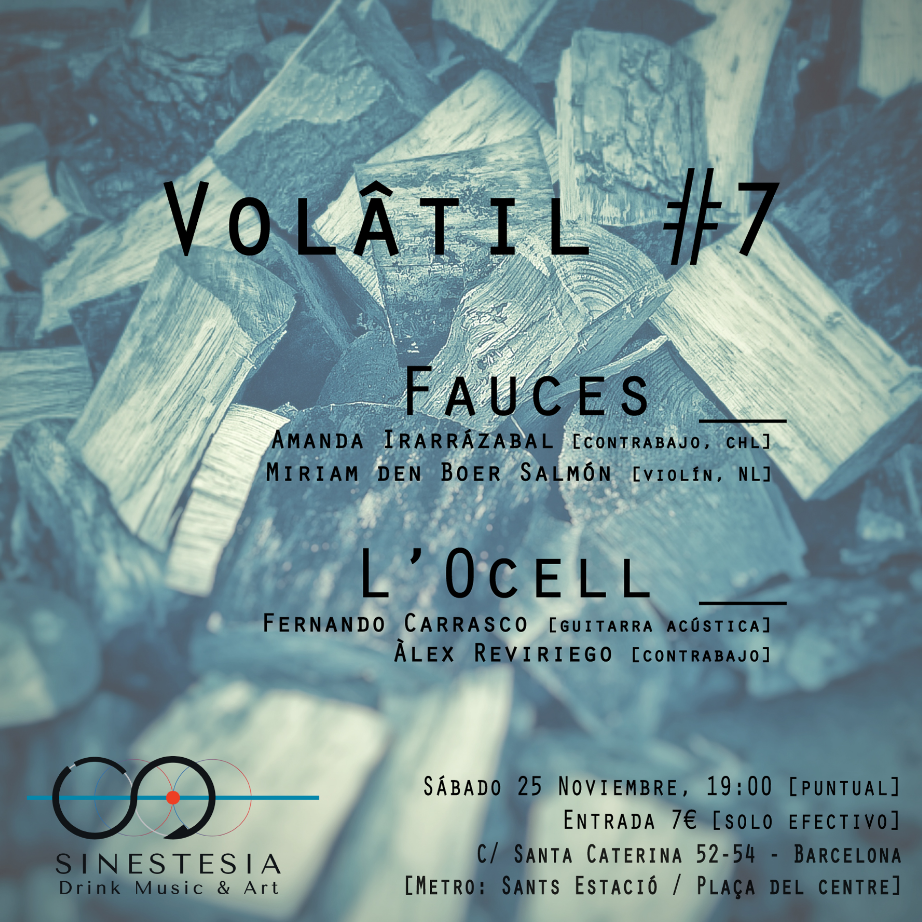 VOLÂTIL # 7
In this edition we will have a double bill with the following performances:
1/FAUCES
The double bassist Amanda Irarrázabal and the violinist Miriam den Boer Salmón are in
the rich music scene of Mexico City. Fauces, their debut album that also gives the duo its name,
It was recorded in Amsterdam and released in 2022 by the 577 Records label. They will be presenting their
album in Barcelona, ​​within the framework of his European tour.
Miriam den Boer-Salmón (NL/MX) is a violinist from Amsterdam. Its multicultural origin is
reflects in a love for diversity. With improvisation as a base, it is currently part of
diverse ensembles, moving between folklore to jazz and multidisciplinary performance.
His recent projects include Ell Sol Quartet (CAT/NL), 6.8kOhm (GR), Rabbit's Eye (GR), No
Horns with Maya Felixbrodt, the duo Škorić/Salmon and the duo presented here with Amanda
Irarrazabal.
For her part, Amanda Irrarazabal is a double bassist, vocalist, improviser and composer.
Chilean who bases her work on sound experimentation. He has recorded 15 albums with various
projects starring musicians from different parts of the world such as Ratas Trío with Ulra
Díaz and Sebastián Carrasco (Ch), Los Piures (Mx) with Don Malfon, Carlos Alegre and Miguel
Francisco, Cátodo Dúo (Ch) with Ramiro Molina, in addition to his solo project called CAUDAL;
a set composed of experimental compositions accompanied by double bass and synthesizers
modular in a mix of song, poetry and free improvisation.
https://577records.bandcamp.com/album/fauces
2/ L'OCELL
L'Ocell is a duo made up of Àlex Reviriego (double bass) and Fernando Carrasco (guitar
acoustics). His music, freely improvised, seeks a sound close to what we could
called acoustic noise, modeling drones and primitive and cathartic soundscapes. Passages of
dark beauty, reminiscent of psych folk and early music, are interfered with and violated
by abrupt appearances of metallic sounds, chaotic percussions and amorphous noises. The oases of
harmony are degraded and destroyed like a construction abandoned to the implacable effects of the
time and nature. They have published three albums, "L'Ocell" (Absent Tapes, 2018), "Absents" (Zona
Watusa, 2020) and "El Declivi" (Tripticks Tapes, 2022), the latter with Ferran Fages as a guest.
https://triptickstapes.bandcamp.com/album/el-declivi
https://zonawatusa.bandcamp.com/album/absents
Wednesday,
Arts Santa Mònica
No event found!