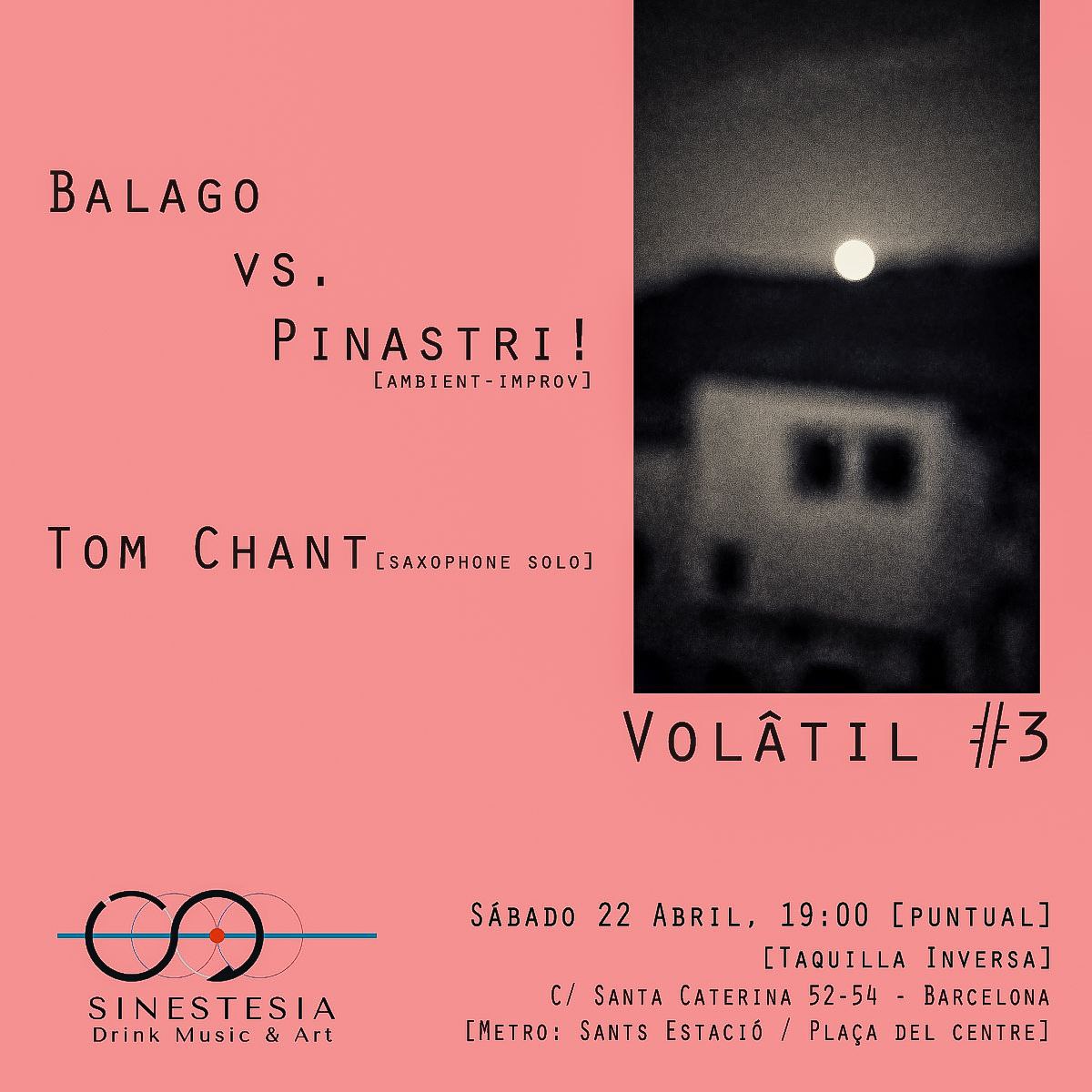 VOLÂTIL # 3
Volâtil #3, next Saturday, April 22.
New series of concerts in which there is room for proposals around improvisation and other music, such as ambient, drone… Every third Saturday of the month in Sinestesia
In this edition we will have a double poster with the following performances:
1/ Balago vs. Pinastri!
Balago is a Catalan experimental music project from La Garriga. Until 2020, he has published seven electronic music albums, all of them published by the Foehn label. His music is influenced by dark ambient, sound collage, sampling and film music. Balago, considered a benchmark for electronics and the avant-garde, is currently formed by David Crespo, the project's alma mater.
https://balago.bandcamp.com/
Pinastri! is a project by the guitarist and improviser Fernando Carrasco in which he delves into fields of electronics, starting with the electric guitar and effects. Attracted by the exploration of the textural world of sound and its expansive aspect, the tension between the abstract and the minimalist melody, drone, ambient and the use of elements typical of North American folk.
https://orbitamutan.bandcamp.com/track/pinastri-volatile
Both projects will establish a dialogue based on shared sensibilities in an unprecedented improvisation.
2/ Tom Chant [saxophone solo]
Tom Chant is a London saxophonist and improviser based in Barcelona, ​​interested in exploring the instability of sound through the sax. He employs acoustic feedback processes, creating a wide range of multiphonics through tenor and soprano sax. Active in the world of improvised music for over 25 years, he has played with musicians such as Eddie Prévost, Steve Beresford, Agustí Fernández, Ferran Fages, Steve Noble among many others.
SYNESTHESIA, Saturday April 22, 7:00 p.m. (punctually) – Reverse Box Office [recommended contribution €7]
(C/ Santa Caterina, 52-54, Sants – Barcelona) [Metro: Sants Estació / Plaça del Centre]
Wednesday,
Arts Santa Mònica
No event found!