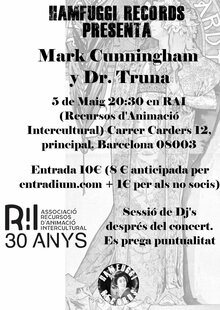 HAMFUGGI RECORS I RAI presenten a Mark Cunningham i Dr. Truna.
HAMFUGGI RECORDS I RAI presents Mark Cunningham and Dr. Truna.
Mark Cunningham (New Jersey, 1952) began his musical career in the New York No Wave scene of the 70s with one of its seminal groups, Mars, playing bass and guitar. In the 80s he began working with the trumpet and electronics in the improvisation scenes and in underground clubs in New York and since 1991 he has been based in Barcelona. Along the way he has been involved in countless collaborations with fellow travelers such as Arto Lindsay, Christian Marclay, Rudolph Grey, Etant Donnes, Genesis P.Orridge, Pascal Comelade, Pierre Bastien, Jakob Draminsky, Murcof, Philippe Petit and Lydia Lunch, and has been conductor of his own bands Don King, Raeo, Convolution, Bèstia Ferida and currently Blood Quartet.
Dr. Truna (Valencia, 1965) is the pseudonym of Andrés Blasco, musician, composer and auto-luthier. In 1983 he began his activity in Valencia with the group Carmina Burana (post-punk) and Fitzcarraldo (experimental rock). From 1995 to 1999, he will live in Liège (Belgium), a city where he will intensely develop his own universe of sound. Since the year 2000, he returns to reside in Valencia and focuses on his work as a one-man band, collaborating with dance, theater and film-concerts. Founding member of Antorcha Amable, El Otro llustre Colegio Oficial de Patafísica, JOP (with Bartolomé Ferrando), 23 Sombras de Amnesia (with Tara X) and recently Trío Truna (TX3). He is currently very active in free improvisation with Mike Cooper, Dada Quartet, and Pierre Bastien in the new project Electric Totems.
Wednesday,
Arts Santa Mònica
No event found!