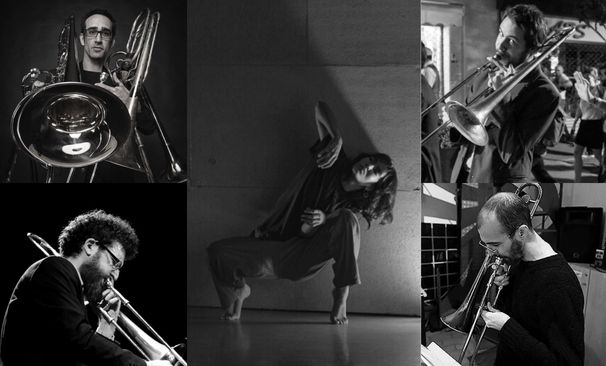 Dimecres de so i cos Trombonia & Sandra Artigas: acció-reacció
Trombonia & Sandra Artigas is a proposal towards the search for freedom, respect and listening to others. Agree on a starting point, let yourself be carried away and jump into the musical and physical void in the purest style of Evan Parker, Philip Glass, Derek Bailey and so many others.
Vicent Pérez: trombonist born in Valencia. He develops his activity as a professional musician in Barcelona. Throughout his career, he has explored the fusion of electronics and trombone with the aim of offering new sounds and textures ranging from ambient to the rawest free jazz.
Victor Colomer: renowned jazz trombonist, contemporary jazz and free improvisation in Barcelona. Still immersed in his latest project Beethoven Fantasy, he is preparing the premiere of Dollars Trilogy in Catalonia and País Valencia.
Aram Montagut: Currently, he is part of the Barcelona Big Blues Band, Outer Space, the Big Band Jazz Maresme, the Voodoo Jazz Band, Zampone Brass, Mambo Jambo Arkestra, Trombonia and regularly collaborates with other formations. He also works as a music and trombone teacher and as a session musician recording for television, films and advertising.
Kiko Palacios: has been a member of JONDE, Mahler Jugend Orchestra, OBC, Orquesta de Córdoba and has collaborated with most orchestras in the State. He is currently a member of the Barcelona Municipal Band, a teacher at the Manresa Municipal Music Conservatory and a member of the TetraBrass Bcn Ensemble.
Sandra Artigas: she is an interdisciplinary artist born in Barcelona. Throughout his career he has explored the search for creative freedom and a voice of his own, carrying out an in-depth study in various disciplines: voice, movement, cello, speech, illustration and composition.
Wednesday of sound and body 2023 is nourished by the proposals of: