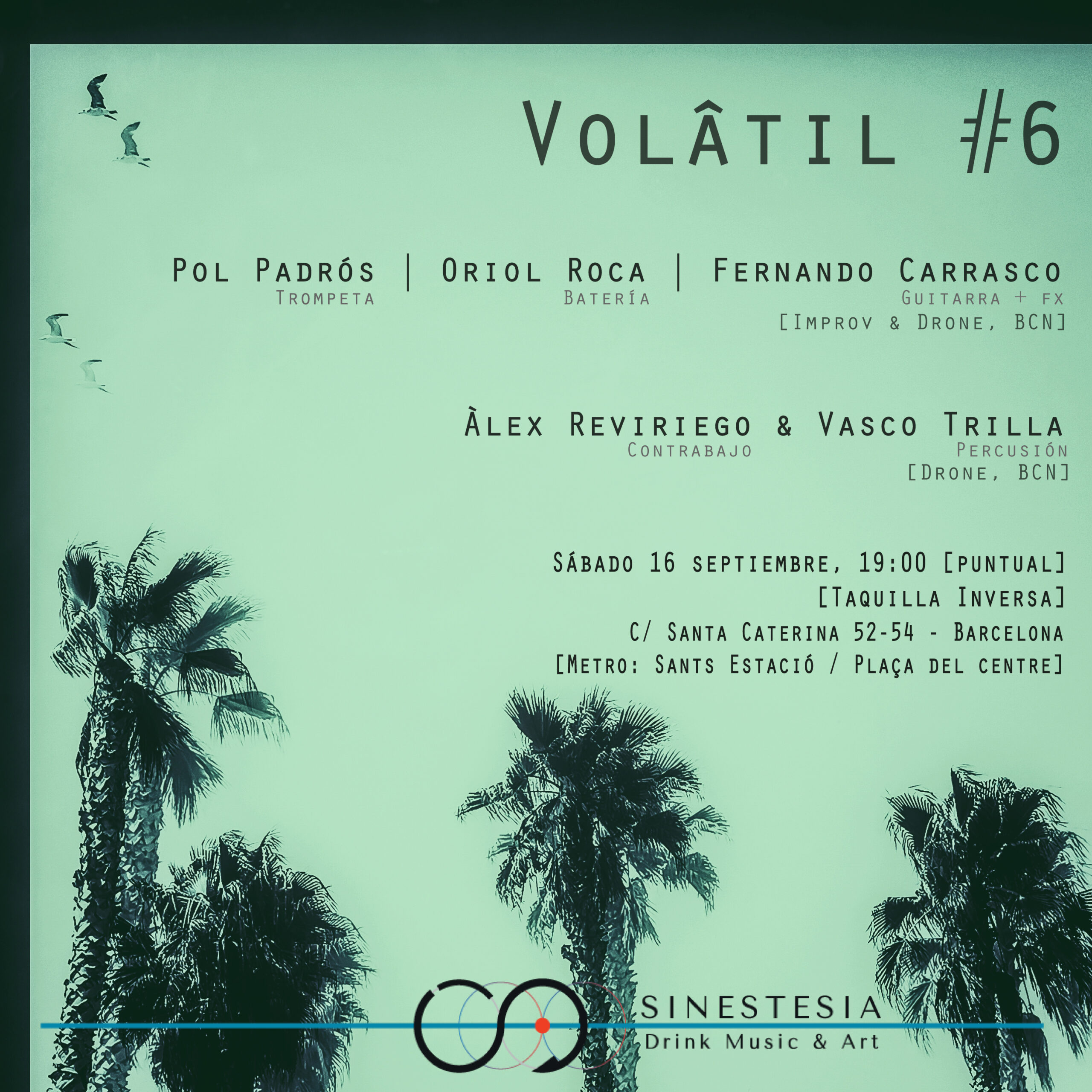 Volâtil #6
Volâtil #6
In this edition we will have a double bill with the following performances:
1/ Pol Padrós [trumpet] | Oriol Roca [drums] | Fernando Carrasco [guitar + fx]
These three musicians focus their activity around improvisation, being some of the most
highlights of the Barcelona scene. They will offer a performance based on timbral exploration,
drones, rhythms and hypnotic landscapes reminiscent of ambient music, noise, free or weird
folk.
Pol Padrós improvises through abstraction, using extended techniques, mutes and effects,
to generate a multiplicity of soundscapes. Within this field, his works stand out
along with Free Art Three or Memória Uno.
Oriol Roca is a drummer of great versatility and a markedly melodic style. This has allowed him
move in various styles. In the more risky music sector, his activity stands out in
recent formations such as Tàlveg, Antiterra or Clara Lai trio. Furthermore, in his role as
composer and sound designer, creates works whose objective is to generate unique auditory experiences
that challenge the public.
Fernando Carrasco is a guitarist attracted to the exploration of the textural world of sound and its
expansive aspect, the tension between the abstract and the minimalist melody, drone, ambient and
use of elements typical of North American folk. He has been a member of the training
Völga and L'Ocell.
2/ Àlex Reviriego [double bass] & Vasco Trilla [percussion]
After dozens of albums, concerts and tours as members of various groups (Phicus,
Völga, Liba Villavecchia trio…), it was practically inevitable that Vasco Trilla and Àlex Reviriego
They also explored the duo format. They will offer a concert based on a rigorous exploration
of timbre, materials and durations.
SYNESTHESIA, Saturday, September 16, 7:00 p.m. (punctually)
Reverse Box Office [recommended contribution €7]
(C/ Santa Caterina, 52-54, Sants – Barcelona) [Metro: Sants Estació / Plaça del Centre]
Wednesday,
Arts Santa Mònica
No event found!