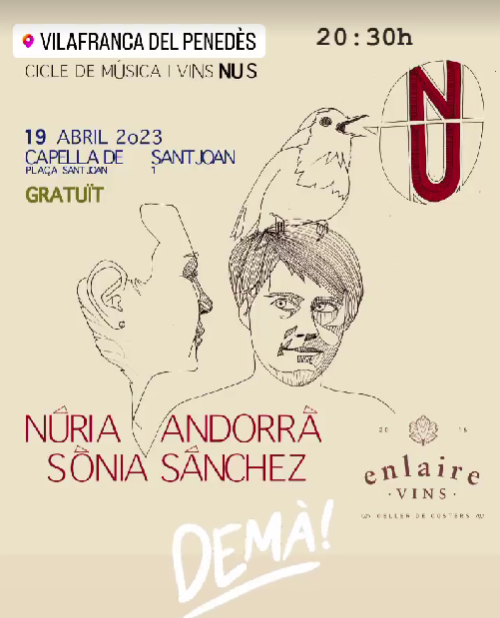 Jazz Vilafranca – NU- Núria Andorrà i Sònia Sánchez
Sonia Sánchez, dance, voice and percussion
Núria Andorrà, percussions
The inaugural concert of this 2on NU transports us to the world of free improvisation, at the hands of a percussion and dance duo. Sònia Sánchez and Núria Andorrà are on stage freely, searching for sounds that move and movements that ring. It's a duo that touches the extremes and goes through all the textures. From purely rhythmic passages, forceful and powerful, to delicate moments where fragility comes alive and evokes melodies and gestures that hang by a thread, a space where caresses, gestures and subtle sounds come to life.
Núria Andorrà, classical and contemporary percussionist, has played with the greatest of free improvisation and accompanied a good number of dancers. She has also worked with Carles Santos and Héctor Parra, and is a teacher of improvisation at the ESMuC and of percussion at the Reus Conservatory, as well as artistic director of the MontMusic Festival and the Improject Ensemble.
Sònia Sánchez is a dancer who combines flamenco, free improvisation and Japanese dance. His career is almost unattainable, with performances all over the world and episodes such as his intervention in the opera Carmen de Bizet in 1992 at the Teatre del Liceu, or in 2014 with the piece "Le Ça" at the Art Museum Chicago modern. His teaching activity has led him to give workshops at the University of Fine Arts and the Master of Sound Art, at ESMuC in Barcelona, ​​and to spread his masterclasses and workshops in cities such as Mexico City, Seoul, Chicago or Stockholm , others.
Wednesday,
Arts Santa Mònica
No event found!